If you couldn't tell from yesterday's post, I'm positively
dying
for Spring to arrive. Mother Nature seems to have heard my complaints, because today in Austin it's a gloriously sunny 77 degrees. Sadly, next week, we're getting another Arctic front.
I refuse to be daunted. To that end, I'm bringing out my sewing machine
(it's been consigned to moving purgatory for the duration of the winter)
this weekend and whipping up something fun. Namely, a pink seersucker dress. I picked up some adorable pink and white seersucker from Hancock over the weekend. For relatively inexpensive fabric, it has a lovely drape. I have sick, sick love of seersucker -there's just something so joyful about it. Seersucker stripes are especially addictive for me, a light, feminine twist on menswear.
Pattern-wise, I'm trying something new. Simplicity just released their early Spring patterns and one of them was
this adorable sundress
from Cynthia Rowley. The version I've chosen is View A, which has a slightly longer hem and wider straps than the modeled view.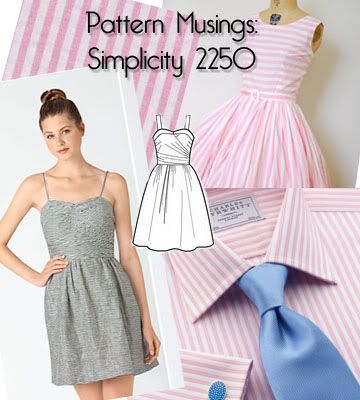 This is the first of Rowley's patterns that I've attempted and the bodice pleats
(at least, I

think

they're pleats)
are a bit daunting. I'm more Marilyn than Twiggy, so Full Bust Adjustments are normally part of my sewing prep. Unfortunately, I have
no clue
how I'm supposed to adjust this bodice. A muslin is definitely in order. I'm also going to add three inches of length to the hem, since even with the longer version, it's still on the short side for my height.
Despite those little tweaks, I'm absolutely in love with this pattern. Keep your fingers crossed that it turns out as lovely in real life, as in my mind! If it comes together this weekend, I'll post all the nitty gritty details on Monday. Have a lovely (and warm!) weekend, lovelies!
[Edited to add: Simplicity 2250 is finished! Check out the
finished project here
.]