Dear faithful readers
(of which there are, so far, none)
,
I find that the success
(read: the mere existence)
of this blog has become too much for one person to handle alone. Why, with the whole 15 minutes it takes me to post, I become fairly faint with exhaustion
(though, perhaps, that's because of a caffeine withdrawal)
. With that in mind, I have invited another aspiring Coco Chanel aboard.
Or, rather, my best friend shall now be adding her two cents to this blog, as well. I have successfully pressured her into picking up sewing again
(she was a precocious child fashionista)
and she'll also be gabbing all about pretty clothes and the sewing of them. Her name is Stephanie - she's a writer who loves tea, classic American style, and penny loafers.
Essentially: twice the pretty. Get excited, kittens.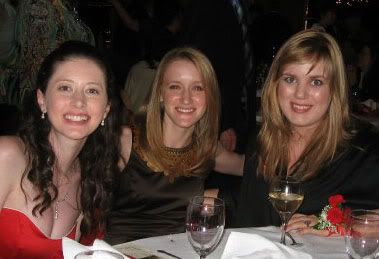 From

right

to left: Mary, Stephanie, and our friend Sarah (who also sews and, therefore, will no doubt be roped into writing this blog eventually)